Christmas with a Cop Made the Holidays Merry and Bright for 86 Local Kids
Dec/30/2022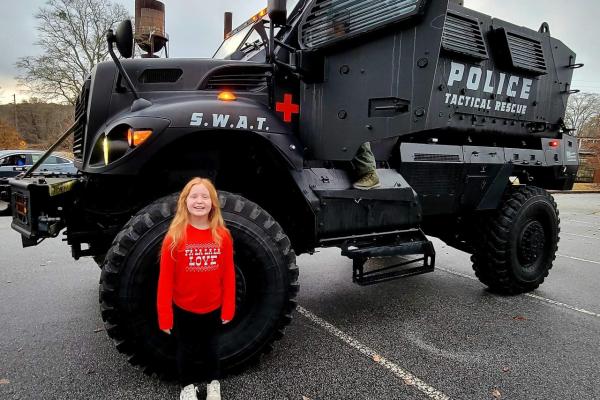 It was a very happy holiday for 86 children in the Christmas with a Cop program, in part sponsored by Yamaha Motor Manufacturing Corporation in Newnan. The annual Christmas with a Cop event brought together disadvantaged kids to go shopping with members of the Newnan Police Department, the Coweta Sheriff's office, and the Sheriff's Jail department. In its fifth season, the festive event brought smiles and tears to family members of the kids selected for this year's shopping trip.
The students and their families met in the early dawn on December 11 at the Newnan police station. They were escorted by police vehicles to the local O'Charleys, where a complimentary breakfast was served to families and officers. From there, the merry cavalcade of vehicles drove to the Newnan WalMart. Wayne Pierce, Vice President of Supply Chain for Yamaha described the scene, "It was a lot of fun – the police cars had horns and lights blazing. Some were blaring music through their speakers. You could tell the kids were really having a great time." Upon arriving at the WalMart, each child was given a budget of $250 to be able to shop for themselves with the assistance of a police officer.
And what did the youths get? Toys were abundant, but many also picked out practical gifts for themselves, like winter coats and bedding. Corporal Adam Griffith, the coordinator of the event explains. "Many of the children who shopped this year were victims of the tornadoes earlier in the year – we made sure that schools in the districts that the tornadoes hit were higher on the selection list as we filled out the roster." At the end of the venture, after check-out, the officers were hugged, hi-fived, thanked, and praised by both the children who were shopping and their grateful parents. Corporal Griffith was doubly pleased with the outcome. Originally, he had budgeted for 50 students to receive the honor of shopping this year. Money was raised through a springtime Golf Tournament and a Fall Car Show. Then, he received $5000 from Yamaha. Yamaha has been a big supporter . They are on board with us big time. When they brought us the big check, it opened up the opportunity for us to help more kids." All-in-all, a record number of students were able to participate in this year's event. Yamaha raised the $5000 for Christmas with a Cop through internal fundraising efforts, although usually Yamaha's corporate giving is funded through their recycling program.
Yamaha's Wayne Pierce who witnessed it all firsthand said, "I was very impressed by the Newnan police department. I was extremely proud to see our police department be able to do this," he remarked. "Even though we are a large company, we don't see this as a responsibility, it's a privilege."
Yamaha Motor Manufacturing Corporation of America designs and assembles WaveRunners, ATVs, Side by Sides, and Golf Cars at the Newnan plant. One of Coweta County's largest private employers, Yamaha is currently expanding the team, hiring another 200 contract employees. Most jobs with Yamaha start Contract at $18 per hour, and are eligible to be full hires in 30 days. Details are at yamahajobs.com.