Yamaha Donates to Floating Classroom Experience
May/11/2022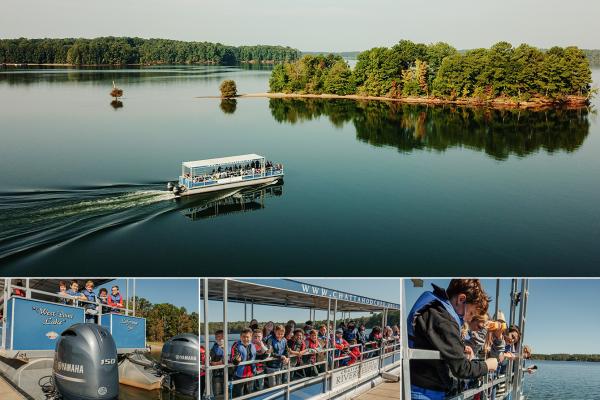 Yamaha Motor Manufacturing in Newnan recently donated $10,000 so that over 300 kids could experience a floating
classroom on West Point Lake.
Why? "We believe in their mission to educate kids with hands on STEM learning opportunities. Teaching kids Science,
Technology, Engineering, and Math now means that someday they can design and assemble the kind of recreational
vehicles we build at Yamaha. Someday they can solve water quality issues like they are taught on the lake. This is about exciting kids about science, and investing in future generations of scientists. We also want to teach kids sustainability and the importance of clean waterways. These scholarships were paid for through our recycling at Yamaha," said Bob Brown, Vice President of Finance and Operations Support at Yamaha.
What is a floating classroom? It's a boat that accommodates children for a learning experience like no other, which
includes running science experiments to test the water while onboard.
Why do it like this? Henry Jacobs, Middle Chattahoochee Director of the West Point Lake Floating Classroom with the
Chattahoochee Riverkeeper explains, "For a lot of the students it's their first time on West Point Lake, or maybe even their first time on a boat. We're talking about how the river and the lakes are our source of drinking water. And we have water treatment plants that make it safe to drink for us. We talk about how West Point Lake and the Chattahoochee River are healthy these days, and they weren't always. So we're connecting the dots between when you turn the faucet on at home and where the source of that water is, and how important it is to protect our rivers, and our lakes, and our streams as well. What we're teaching on the floating classroom is reinforcing Georgia's Standards of Excellence that teachers have to cover."
Fifth grade teacher Mrs. Patsy Hart from Western Elementary recently took a Yamaha-sponsored trip with her class on West Point Lake Floating Classroom. She said there were quite a few areas of curriculum that the field trip covered. "One is living organisms and classifying them—we talk about how fish have gills. We talk about erosion and weathering and how to prevent that."
Mrs. Hart said she felt the most important lesson was testing oxygen in the water, because the kids asked, "How do fish breathe?" She said it "wowed" the kids when they were able to show the impact from one human breathing their carbon dioxide into the lake water with a straw.
"With Yamaha support we're able to provide scholarships to students attending Title I schools, specifically in Coweta County. This provides a chance for students who would otherwise have not had this opportunity to come out on a boat, on the lake for this three-hour field trip. So their support is helping cover all the costs. $10,000 provides the opportunity for 333 students to come out on a scholarship to attend the program," said Jacobs.
Some years no corporate sponsor has stepped up to make the Floating Classroom free for students, and Western's
science team still feels it is so valuable that they will go anyway. "Western is a Title I school so when the kids pay, not
everyone can, so that means that teachers usually make up for that, so this is a wonderful treat for them and us," says Mrs. Hart. Western Elementary was also a local school that received a set of bikes from Yamaha to teach students how to ride. "Yamaha: they've got a fan club out here and I'm one of them," said Mrs. Hart.
"I'm really excited that Yamaha is supporting the program and our efforts in Coweta County. We want to serve more of the schools and the students in Coweta. That's helping us have more students come out to experience and understand water stewardship. They're going to carry that with them the rest of their lives," said Henry Jacobs.
Chattahoochee Riverkeeper has been around for 27 years, and operating a floating classroom on Lake Lanier for 20 years, but only serving Coweta County for the last 6 years, when they added a second floating classroom on West Point Lake to serve all of West Georgia. When Chattahoochee Riverkeeper started, the river was a mess from sewage runoff in Atlanta. Through education and advocacy, the river and the attached lakes are much healthier.
The West Point Lake Floating Classroom has a mission to serve those who may not otherwise be able to afford to go. Through corporate and private sponsorships, over 9000 scholarships have been given, and 18,000 passengers have been educated. For more information about how you can help support their mission and the Floating Classroom at West Point Lake visit chattahoochee.org
Yamaha Motor Manufacturing Corporation of America designs and assembles WaveRunners, ATVs, Side by Sides, and Golf Cars at the Newnan plant. One of Coweta County's largest private employers, Yamaha is currently expanding the team, hiring another 200 contract employees before the end of the year. Most jobs with Yamaha start Contract at $16.50 per hour, and are eligible to be full hires in 30 days. Details are at yamahajobs.com.