Yamaha Rolls Out Employee Equipment Loan Program
Nov/07/2023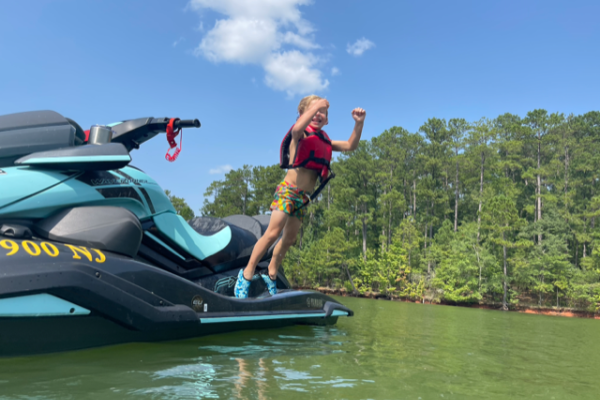 Enjoying a day on the lake with a WaveRunner through Yamaha's Employee Equipment Loan Program.
Cecil Wood made his neighbors jealous without even trying.He spent a week riding all over his large neighborhood on a new Yamaha electric bike. Every afternoon, along a route of more than two miles on the streets near his home. How did he like it? "I just had an awesome time," he said.
Where did he buy the bike? He didn't. The vehicle was a loaner. As an employee of Yamaha Motor Manufacturing Company, Wood was able to take advantage of a new program through which he could reserve the use of either a Yamaha e-bike or a WaveRunner produced at the Newnan plant after completing a safety course.
Wood was initially skeptical about the supposed ease of participating, but he soon found out it was true. So he wound up on a bicycle for the first time in about 20 years.
Why is Yamaha going to such efforts to put Yamaha products in the hands of their employees? It speaks to a Japanese concept that we don't have an English word for, Kando. It's the deep satisfaction and excitement you find in discovering something of value. "We are the Kando-creating company," said Bob Brown, Vice President of Operations. "We want to provide it to our end customers, and we certainly want it for our employees. If they can have the kind of deep emotional experience and excitement in using our products, we know they'll connect on a deeper level to their work and coworkers, too."
Christopher McGarity, a factory control unit manager, said "We don't really get a chance to try Yamaha products unless we buy them. So to me, this kind of puts some skin in the game for employees that have not been exposed to products other than building them," said McGarity. "That was really great from my experience, being able to get my hands on it and actually use it."
The program isn't just e-bikes, there is also a fleet of WaveRunners at West Point Lake. Yamaha Division Manager, Jason Broshear, has taken his family out with him, "It's seamless. You go out, have fun on the lake, fill up the WaveRunner with gas, return it to the dock."
The WaveRunner is produced locally, at the Newnan plant. "A lot of our employees may never actually see an end product," said Broshear. "For example, a forklift operator in our distribution center only sees the parts and shipping operation. They never get to see the products coming off the end of the line. To utilize a WaveRunner that they don't have to worry about purchasing personally, is just a great experience. You get to see the parts you're interacting with every day, working on that end product."
This program is intended in part to foster community among Yamaha employees, and those who have participated all agree that it has been a success on that front. "We talk about Yamaha Pride," said Wood, who has been with the company for about 17 years. "I feel it every day coming to work. So I'm very happy to be part of the Yamaha family."
McGarity echoed the positive sentiments about their employer. "Working here at Yamaha has been a great experience. It's been able to provide that work-life balance as well as great challenges, opportunities and advancement," he said. "Yamaha has continued to put opportunities out there, and we try to rise and meet the different challenges on a day-to-day basis. So I would tell anybody that if they could become an answer to a problem, then this is a great place to work, a great place to learn and give back to the community."
Yamaha Motor Manufacturing Corporation of America designs and assembles WaveRunners, ATVs, Side by Sides, and Golf Cars at the Newnan plant. One of Coweta County's largest private employers, Yamaha is currently expanding the team, hiring for both contract and professional team members. Full-time direct hires, such as welders and engineers enjoy a comprehensive benefits package, including insurance, 401k, profit sharing, and more. Details are at yamahajobs.com.