Yamaha Celebrates 35 Years
Feb/01/2023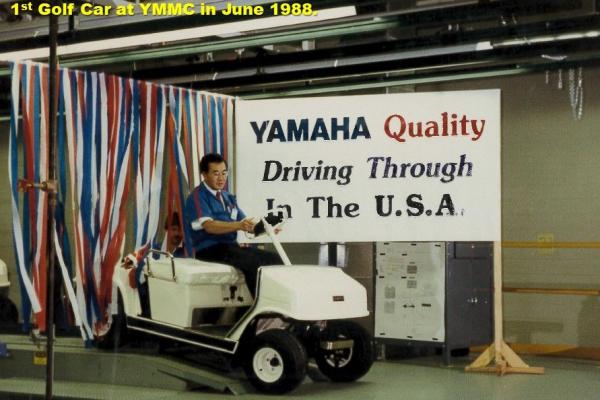 When Yamaha started operations in 1988, the Chamber had already been operating for 40 years. Starting with small crew that assembled golf cars in Newnan, Yamaha Motor Manufacturing Corporation of America now has over 2000 team members bringing incredible value to their customers, their families, and this community. Today on our 280 acre campus with six plants, Yamaha has produced over four million recreational vehicles including WaveRunners, Golf Cars, ATVs, and Side-by-Sides.
Plant construction started in 1986. The first unit to roll off the manufacturing line was a golf car in June of 1988. By January of the following year, WaveRunners were added. Gradually, over the years, the plants grew to encompass the production of ATVs and Side-by-Side Recreational Offroad Vehicles.
One of several original team members, Ken Ellerbee started at Yamaha at the time the plant was initially hiring in January, 1988. He began as an electronics technician in 1988 with the robotics systems in welding and is now a SMART Construction Manager.
Ken has enjoyed working for Yamaha these past decades. "So coming to work every day, I always had a different challenge, and over the 35 years I've had different roles. I was an electronics technician and gotten to do ground zero machine installations and construction projects and got into facilities engineering. There's just been a lot of change and exciting stuff that I've been able to grow here. Yamaha has been gracious enough to let me do different things while I've been here. A lot of people move around job to job to job. Well, I've moved jobs inside of Yamaha, but I've been able to stay here to do that, so I've been very fortunate."
He also points out that throughout the years, it's been systemic continuous improvement. "As new products came in, we had to modify the pro assembly lines and the building structures to accommodate that. We've had to adapt and improve as the products evolve. So I've been the guy in the behind the scenes, so to speak, working on those aspects from over the last 35 years."
Yamaha has won awards for their commitment to environmental health and safety. This includes ISO 9001 and 14001 certifications, the Georgia State Natural Leadership Award – Continual Environmental Improvement, and the Coweta Water Authority Plant of the Year.
Every WaveRunner, Golf Car and side-by-side ROV that Yamaha markets is manufactured in Newnan, Georgia. Most of the world's Yamaha ATVs are also assembled in Newnan. Besides incredible productivity, Yamaha creates opportunities for its team members to positively impact the local area through community service and corporate giving. Every dollar collected from Yamaha's extensive recycling program is reinvested into corporate social responsibility initiatives, like scholarships, science education for local students, and even disaster response.
For example, Yamaha regularly sponsors entire classes from Title 1 schools to experience a science classroom on the lake. The Chattahoochee Riverkeeper's floating classroom program allows students to conduct scientific experiments related to water quality and conservation.
Yamaha's commitment to the community includes extensive investment, even in our latest initiative, the SMART Warehouse which will improve manufacturing efficiencies. This 200,000 square foot facility will bring the latest technology to the campus. If you're trying to picture the SMART Warehouse, imagine a seven-story vending machine. Instead of cokes and chips dropping slowly, it has high-speed automation sending Yamaha team members the parts they need immediately to build recreational vehicles. A better system will make a more efficient team, and ultimately a happier customer.
And there's a strong commitment to the environment at Yamaha. They have adopted a Carbon Neutral program to reduce the carbon footprint for the entire campus by 2035 and are on track through installation of solar panels all across the rooftop of Plant 2.
Bob Brown, Vice President of finance and operational support at Yamaha and a Chamber Board member says, "As a business in Newnan, we value the collaboration with other Chamber members to make this community vibrant and strong. That's why we congratulate the Chamber and their 75th year and look forward to our continued partnership."