Yamaha gets Kindergarteners riding bikes at local schools
Nov/14/2023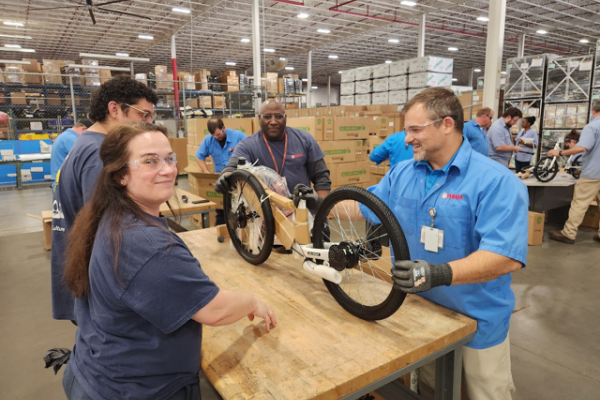 Yamaha Team Members assemble Strider bikes for 3 local schools
Kids in Coweta County are learning to ride bicycles, and the folks at Yamaha are helping make it happen.
Three elementary schools in Coweta – White Oak, Moreland and Welch – are participating in learn-to-ride programs thanks to All Kids Bike, a national nonprofit that teaches kindergarten students how to ride bikes during physical education classes. The program was made possible locally by a $100,000 grant from Yamaha Motor Corp, USA via its Yamaha Outdoor Access Initiative (OAI).
But the company's involvement does not end there. A number of employees at the Yamaha Motor Manufacturing facility in Newnan spent a day assembling bikes.
Armando Torres, a continuous improvement technician, was enthusiastic about the bike build. "When we were approached to help with this specific project, I had no clue Yamaha was as invested in the community as they are. And it does make me proud to work for a company that actually cares about the community enough to give back.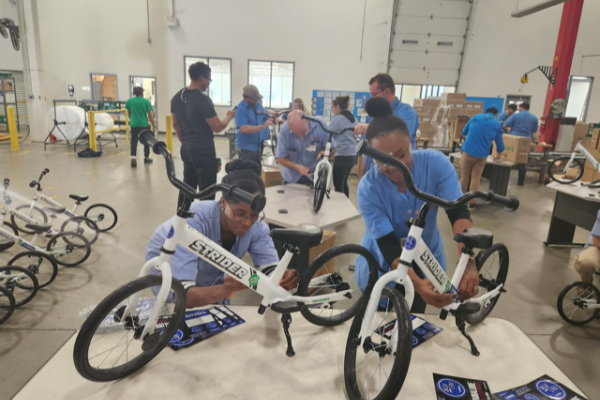 The bikes were delivered to White Oak at a special celebration Nov. 8. The ceremony revealed 24 balance-to-pedal conversion bikes and included a first-ride opportunity for some very excited kindergarteners.
The American Academy of Pediatrics states that riding a bike is considered a developmental milestone for a child. The All Kids Bike program, now in more than 1,000 schools across the nation, helps students develop physically and mentally. It also gives them greater confidence, reduces stress, and provides better focus in the classroom.
Jon Jones, the PE Teacher at White Oak agrees. "We've been on scooters already to teach them spatial awareness and direction. They'll learn balance using these bikes. It's a lifetime activity that they can use."
Yamaha has funded a total of seven bike programs in Coweta County, Georgia, all at Title I schools.. Additionally, nonprofit partners in the community funded an additional three Title I schools in the program. Many of these children come from economically disadvantaged backgrounds, and might not be able to afford a bicycle to learn on at home.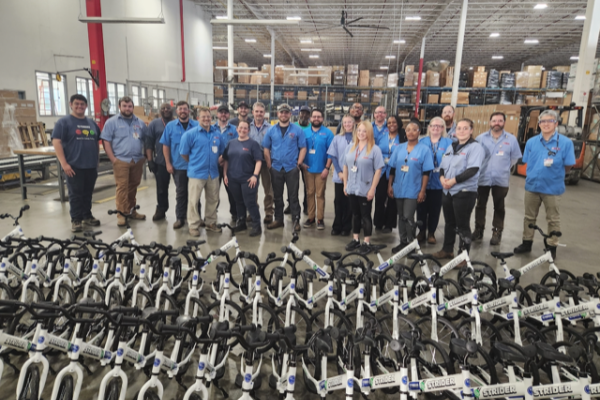 "We are a Title I school. Some of our students are on free and reduced lunch. They come from all different neighborhoods in our community, and they all have different needs," says Kim Taylor, the Principal at White Oak. "I feel like there's a lot of opportunity with the bicycles to learn about healthy habits, to learn about exercise, to learn about reducing stress, to learn new skills. We have a lot of opportunities with these bikes to help our students."
With school leaders as well as parents working to get kids to reduce their screen time and become more active, Yamaha is a natural choice to partner on this project as the company's entire product line encourages outdoor recreation.
Jason Broshear, Yamaha's Division Manager for Corporate Planning and Sustainability explains. "I was just recently looking at all of the images of my son when he first got a balance bike and what came to mind is the joy it brought him being out in the neighborhood, riding around and meeting new friends. I mean, I remember, I'm sure everyone remembers their first time riding a bike, so just to have every kid experience that feeling is truly what All Kids Bike and Yamaha hope to provide to local communities.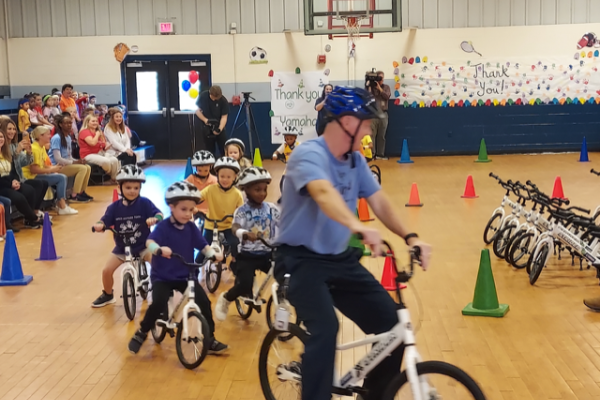 "We hope that through learning to ride a bike, this provides confidence and empowerment in enjoying the outdoors that stays with them throughout their lives. Yamaha looks forward to having these students as our future customers, our future team members, and our future community leaders."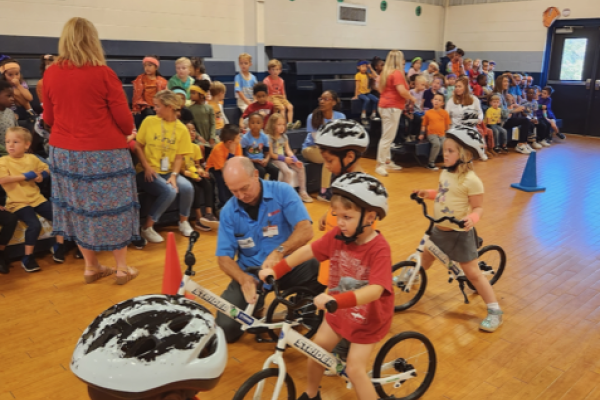 The big reveal at White Oak Elementary pairs the bikes Yamaha assembled with kindergarteners who are learning to ride bikes in PE class as part of the All Kids Bike program.
Yamaha Motor Manufacturing (YMMC) employs more than 2,200 people from across metro Atlanta to design and assemble recreational vehicles at its Newnan manufacturing facilities. All of the world's Yamaha golf cars, WaveRunners and Side-by-Sides, and most of the ATVs are manufactured at the plant in Coweta County. Yamaha is currently hiring many professionals and skilled labor team members. Details are at yamahajobs.com.